Rebel pitcher to break out in 2020
Since as long as she can remember, Hays High sophomore Katie Noble has been passionate about softball.
Baseball bloodlines run deep in Noble's family as Katie's grandfather, Gene Noble, played for the Houston Astros' farm system in the 1960s. The Noble family's affection for the diamond jump started her interest at an early age. Noble began playing baseball in the front lawn with her father, eventually transitioning to softball by the age of five.
"I'm working on my screwball better, so that way I can like jam the righties and to be able to have that strong pitch.
–Katie Noble, Hays High sophomore
Roughly a decade later, Noble is expected to become one of the leaders of Hays softball team with the opportunity to be the ace of the Rebel pitching staff.
"I'm very excited about it," Noble said. "The seniors talked to me about that all last year. They just told me that I would be the leader and that the team is going to look at me."
During her freshman year in 2019, Noble didn't expect to see much playing time due to the number of seniors on the talented Rebel squad.
An injury to senior pitcher Maxine Valdez early in the season thrust Noble into the circle to pitch against varsity level talent during nondistrict play. Noble felt a mix of nerves and excitement as she was going to compete against a majority of girls who were two to three years older than she was.
"I just had to tell myself that I was on the team for a reason, and just play my best and play hard like I knew how to play." said Noble.
Noble ended up playing a key role during the Rebels' playoff run this past spring, mainly as a relief pitcher for Valdez, as well as garnering playing time at first base. Noble credited team leaders Valdez and senior Brianna Rodriguez with helping her mentally staying focused and calm under pressure situations throughout her freshman campaign.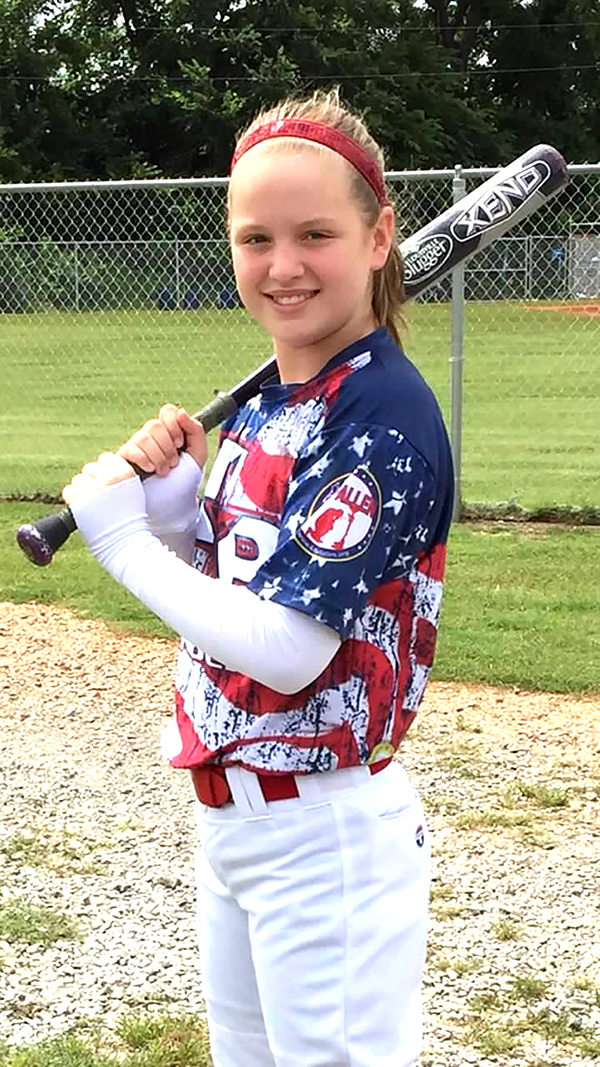 "I learned that just to keep calm in the circle no matter what the (opposing) team is doing." Noble said about the advice she received from Valdez. "If they are hitting off of you so much, just to keep your temper and be calm the whole game no matter what."
Her play earned honorable mention on the All Hays Free Press-News Dispatch softball team. Noble also takes care of business in the classroom as she was named to the 25-6A Academic All-District team. The Rebels will need to lean on Noble in the circle in 2020, thanks to her invaluable experience as a freshman.
Going into this season she has five different pitches she can use, including a fastball, rise-ball, drop-ball, change up and her go-to pitch – the curveball. In addition to those five, she is working on adding a sixth pitch to her belt this summer.
"I'm working on my screwball better, so that way I can like jam the righties and to be able to have that strong pitch." Noble said.
Not only is Noble practicing on her technique this summer, but she is also playing against some of the top high school players in the nation.
Noble's select softball team, the Texas Bombers Gold Hybrid, is traveling across the country to play in several tournaments. After finishing in second place in a tournament in Atlanta earlier this summer, Noble and the Bombers are heading to California to play in the Premier Girls Fastpitch (PGF) tournament. According to Noble, PGF is regarded as one of the top select softball tournaments in the entire country.
"It helps you get better because there is so many good people, so much good talent and everything," Noble said about playing at PGF. "It just helps you perfect your skills and shows you what you can do against the best of the best."
With her freshman year in the rearview mirror and her sophomore year approaching quickly, Noble is focused on stepping into that new leadership role and leading the Rebels to a district title and another run in the playoffs.