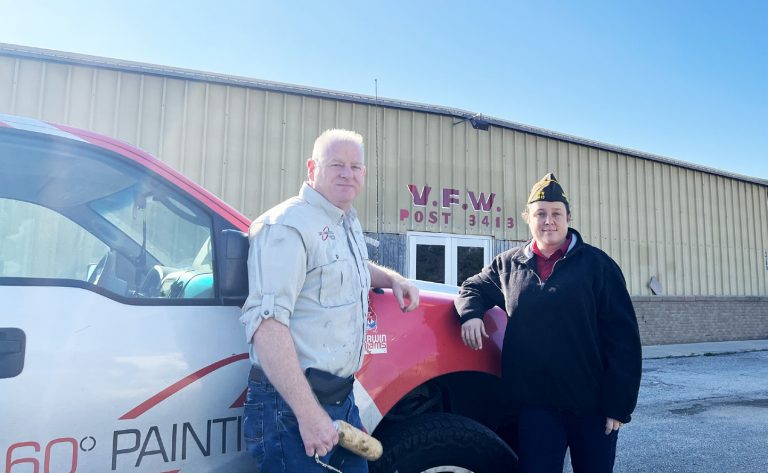 Community, Main, News, San Marcos
VFW invites community to renovate building
Local veteran, business owner spearheads efforts to spruce up historical institution
SAN MARCOS — Driving down the busy street of Hunter Road in San Marcos, you may pass right by the VFW without a thought. The decrepit building painted in its faded tan color is unremarkable at first glance, but what happens inside is the very definition of community.
This Saturday, Feb. 18, the Maurice T. Suttles VFW Post 3413 is getting an exterior makeover courtesy of a collection of business owners in the San Marcos community as a way of giving back to the institution that provides both a shelter for veterans and a venue for citizens alike.
Veteran and 360 Painting Owner Steve Tucker is spearheading the renovation efforts and spreading the word to other local businesses.
Tucker got the idea to give back to his community VFW after visiting a post in Fort Worth for a quinceanera.
"I'm a veteran and I realize the importance of facilities like this that give back to the community and open up to the community. Let the people come and gather," he said. "After driving by the VFW, I realized I have to give back to the veterans because the building needs some love, so that kind of kicked off the idea. I got together with some of the other owners and said, 'Can you guys help me?' We want to do something nice for the veterans and fix up their homes … then I got together with Stephanie [Brown, post commander] and she was open arms."
The plan, according to Tucker, is to paint the exterior of the building and clean the cannons so they, too, can be repainted.
"Basically, we are going to be freshening up the outside, painting the outside, making it a place where, when you drive down the road, you're like, 'Oh, that's a cool place,'" he said. "It plays a really pivotal role in the community. There's just no other place like it."
PPG Paints has donated 99% of the paint, Tucker said.
"They've really stepped up and given us probably more than $2,000 worth just in paint. They have graciously given it to us," the veteran and local business owner said, noting that San Marcos Window and Powerwashing, 360 Painting of Central Texas, Black's Barbecue and Copperfield Plumbing — all local businesses — are opening their arms to help in any way they can to give back with an estimated $15-20,000 in supplies. However, Tucker is asking the community to join in volunteering time and labor. Right now, he said there are approximately 25 volunteers signed up to help on Saturday in giving back to this historical community institution.
According to VFW Post 3413 Commander Stephanie Brown, the VFW is a congressionally chartered organization that was founded after the Spanish War. The Maurice T. Suttles VFW Post 3413, which has approximately 200 members, is nearly 100 years old itself. In order to be a member, you have to be identified as a veteran of foreign war; however, Brown said she does not turn away veterans who have not been deployed overseas.
The institution is a place where veterans can come for camaraderie and advocacy, Brown added, noting that the VFW Post 3413 played a major role in a recent act of national legislation. Members are also very active in the community.
"The VFW gives veterans a place to gather and talk and interact with people that understand. Breakfast [on Friday mornings] with veterans and the community is fun for us because we talk about stuff that's upcoming, but when school's out, the kids are here," the commander said. "I grew up in the VFW in my community with World War II veterans and I want my kids to grow up here, too. You're in living history. So, it just makes them have a better appreciation because it's good for [members] to have a younger generation [around]."
Brown noted that the post is currently struggling to reach the age gap between today's veterans and the veterans of wars past.
"I feel like I'm in the right place at the right time and it's going to be work. There's a huge generational gap right now," she said. "Membership here is Vietnam era and late Iraqi era. And not many Iraq-era people here. There's probably a 20– to 25-year age gap. Some of it is generational, but I can't get them to the table. So, I'm hoping that by showing them that the VFW is not what they remember it being and it can be what we make of it, it will give them a place to go to."
Not only is the VFW Post 3413 open to all veterans, but it also welcomes the community.
The institution acts as a venue for events, which is how the organization funds its membership, educational and advocacy efforts. Sprucing up the exterior of the building means a lot to the members and to the community alike.
"I think from my side of it and for the members here, [the renovations] will be an improvement and will be like having a home," Brown said. "There are no more places like this. And we can't afford it."
Tucker added, "With local support and recognition, it's helping [the community] recognize that this is more than just a building sitting here that people drive by every day. It touches the lives of people who don't even really realize it. It does more than just provide a place for veterans and provide a place for the community and that really hit me. I thought, 'They could not do [community events] like this anywhere else.'" Tucker, Brown and the whole of the VFW Post 3413 invite the community to join in the renovation efforts on Saturday.
"That's tough in this society — doing stuff for other people. A lot of people don't know where to even start," Tucker said. "You don't have to have any skills at all to come here and volunteer. You can contribute in any way you can. We're not looking for skills, we're looking for hands and help. If you can't work, bring some food for lunch! That's what all this is about — spending 8 a.m. to 5 p.m. to knock it out with as many people as we can."
For veteran services and rental hall inquiries, contact vfwpost3413@gmail.com.
Visit the VFW Post 3413 on Facebook at www.facebook.com/ vfwpost3413.