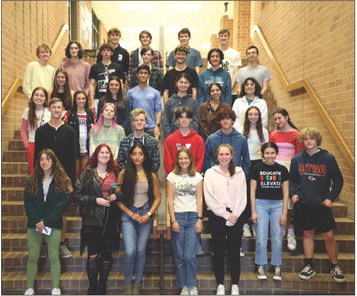 Community, Education, News, Wimberley
Wimberley HS teams claim sweepstakes
Wimberley — On Saturday, Feb. 11, the Wimberley High School UIL Academic and Speech & Debate teams competed at a local meet hosted by Hays High School. The school dominated the overall competition, winning first place sweepstakes with a total of 473 points.
The following students/ teams placed at the meet:

Accounting
1st Place Team
1st- Madeline Plant
2nd- Ian Sowersby
3rd- Carson Peoples
Journalism
1st Place Team
Copy Editing
1st Gage Trudeau
2nd Kaitlyn Marinos
3rd- Kayla Pierce
4th- Eden Kruse
Editorial Writing
1st- Kayla Pierce
5th- Gage Trudeau
Feature Writing
1st- Peyton Shaw
4th- Elena Martin
6th- Eden Kruse
Headline Writing
2nd- Peyton Shaw
3rd- Eden Kruse
5th- Gage Trudeau
News Writing
1st- Aidan Archer
2nd- Peyton Shaw
3rd- Elena Martin
Literary Criticism
1st Place Team
1st- Kathryn McKinney
4th- Alex Davenport
Math
5th- Wolf Hill
Number Sense
1st Place Team
1st- Tison Sames
2nd- Thomas Watson
3rd- Wolf Hill
Ready Writing
2nd- Kathryn McKinney

Science
1st Place Team
2nd- Jacob Mantsch
3rd Kayla Pierce
5th- Kaitlyn Marinos
Top Chemistry
Kaitlyn Marinos
Top Biology
Tyler Youens
Social Studies
1st Place Team
1st- John Moore
2nd- Trinity Rivera
4th- Samuel Crow
5th- Alex Caldwell
Spelling
2nd- Iris Kawas
3rd- Risa Espinoza
4th- Lydia Krasue
Informative Speaking
1st- Alex Davenport
Lincoln Douglas Debate
2nd- Ella Fertitta
4th- Sophia Vitela
5th- Sadie Osterhuse
Persuasive Speaking
1st- Gage Trudeau
4th- Sophia Vitela
Poetry Interpretation
1st- Alex Davenport
Other competitors at the meet were from nearby Dripping Springs HS, Bowie HS, NB Canyon HS, Johnson (Buda) HS, SA Memorial HS, Judson HS (Converse), Westlake HS and Hays HS.