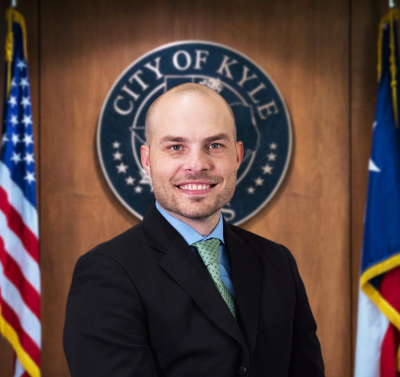 Kyle mayor faces health scare
Mitchell acknowledges cannabis use to dispatch
"My heart rate is really elevated. I'm worried that I might be having a heart attack," the caller said, taking short, shallow breaths.
"Do you have a history of heart problems?" the dispatcher asked.
"My heart has been up acting up lately, yes," he responded. "My heart rate is very elevated. It's at 170 right now. I can feel my heart pounding."
"Did you take any drugs or medication in the past 12 hours?"
"I'd rather just—" the caller said.
"I'm going to need to know this information. Sir, what did you take?"
"Gosh, can you just send an ambulance?" he asked, voice trembling.
The dispatcher asks another nine times — "Sir, what did you take?"
"A puff of marijuana," he replied.
———
KYLE — Recounting the details of the 911 call, Kyle Mayor Travis Mitchell said he feared for his life as his heart rate reached 180 beats per minute at approximately 5:30 p.m. on Feb. 2 after he allegedly took a hit of marijuana. The following is his account of the events.
That night wasn't just a one-off event. Like his heart that fateful Thursday, the situation had been building to a crescendo.
Mitchell said it all began around Christmas when he started to notice an elevation in his heart rate.
"It was two months of steady elevation. It had gotten to the point where I was monitoring my heart rate every morning, noon and night and I was concerned, but I wasn't making the necessary changes I knew I needed to make. It was more of a head-in-the-sand kind of thing health-wise," he said. "I couldn't even do normal things because I would get my heart rate too elevated; I would have to stop things that I was accustomed to doing my entire life."
The night before the event, Mitchell attended a dinner party and consumed a couple of glasses of wine, noticing his heart rate rise and rise. The day of the incident, however, he was experiencing a notable level of anxiety and stress.
"I was very careful about not putting anything into my body until I got home … My family was coming home for dinner, but they just weren't home yet and I was really stressed out," he said, noting that he has a history of anxiety, but has never been treated for it. "The thing is when it comes to anxiety, there are medications that the doctor will prescribe, but I don't want to take any of those things, you know? At least until I'm living a healthy lifestyle first."
So, when Mitchell got home that Thursday evening, he took a hit of marijuana from a pipe — something that typically eases his anxiety.
"Ironically, marijuana has allowed me to [remain medication-free]," he said. "It's been a great way of coping with anxiety and it also helps me sleep. So, it was one of those things where I got home, smoked some weed and was just in the kitchen, looking at my heart rate."
Mitchell watched his heart rate continue to rise on his Apple Watch, increasing his anxiety.
"The ironic thing is monitoring the heart rate so closely with my watch could actually have been part of what contributed to my panic attack. I was getting a glass of water from the kitchen and my heart rate went up to like 180 beats per minute.
I thought I was going to have a heart attack," he said. "I think, in my mind, I knew if I called 911 it puts me in this chair, right here, right now [in this interview], so there's a certain amount of frustration with myself for getting myself into that position. And so, I think a part of me wanted to call to force myself to take my condition seriously and make the needed changes and I knew that would come from calling 911."
Mitchell said he called at approximately 5:30 p.m. As normal procedure in a medical emergency, the dispatcher asked, "Have you taken any medications or drugs?"
The dispatcher asked a total of 10 times, according to Mitchell's account.
The mayor said he was hesitant to answer due to the ramifications.
"The fact that if I answer honestly, it puts me in the position [to be scrutinized]. That's exactly what was going through my head," he said. "There's no way that dispatchers would understand that … So, they just see someone not answering and think, 'Oh, this guy is being evasive.'" Allegedly, Mitchell finally answered — "A small puff of marijuana."
The reason for his hesitation, he said, was a personal one.
"So, in my mind, in my heart, if I'm calling 911, I might as well be talking to the city — the whole city.
So, that's the frustrating thing. There's no privacy when you're the mayor — none. This is all very personal stuff. I was in my home. It's really no one's business. But it's a situation where I signed up to be the mayor and so there's an extra degree of transparency that's required," Mitchell said.
"And this is me, you know, trying to just be honest about my condition and what took place and the decisions that I made that led to it."
First, the Kyle Police Department entered the home, followed by the paramedics, who hooked him up to an EKG. By then, his heart rate was decreasing. The entire event lasted a total of 60 minutes.
"They said it was a textbook panic attack," he said. "When you're having a panic attack, it's like you're paralyzed … I thought I was dying. I'm staring a hole into the wall or like, I'm afraid to move my eyeballs. It's the craziest feeling. It's not the first time I've had one, but it's the worst one I've ever had … I was having visions of, 'If I don't call 911 right now, I'm going to die. My family's going to walk in on me on the couch or on my bed [dead].'" Since that event on Feb. 2, Mitchell has reported making substantial changes to his exercise and diet.
"The moral of the story is: I need to eat better, but I need to have regular cardio exercise and I need to lay off the, you know — anything that could alter my heart rate," he said. "Frankly, this is all quite embarrassing … but if you take that part of it aside, I'm grateful that this happened because it taught me that life is short. [Changing my lifestyle] will be the only thing that will allow me to see my kids grow up."
When asked why he decided to come forward with the details of this personal situation, Mitchell said, "I don't want to live my life in fear or with the knowledge that there is something that has taken place that certain people would love to see made public that I'm trying to hide and so, I'd rather come forward and tell the story of what happened factually and then people can decide for themselves how to react."
The Hays Free Press has filed a Texas Public Information Act request for an account of the details regarding this event. More information will be released should it become available.