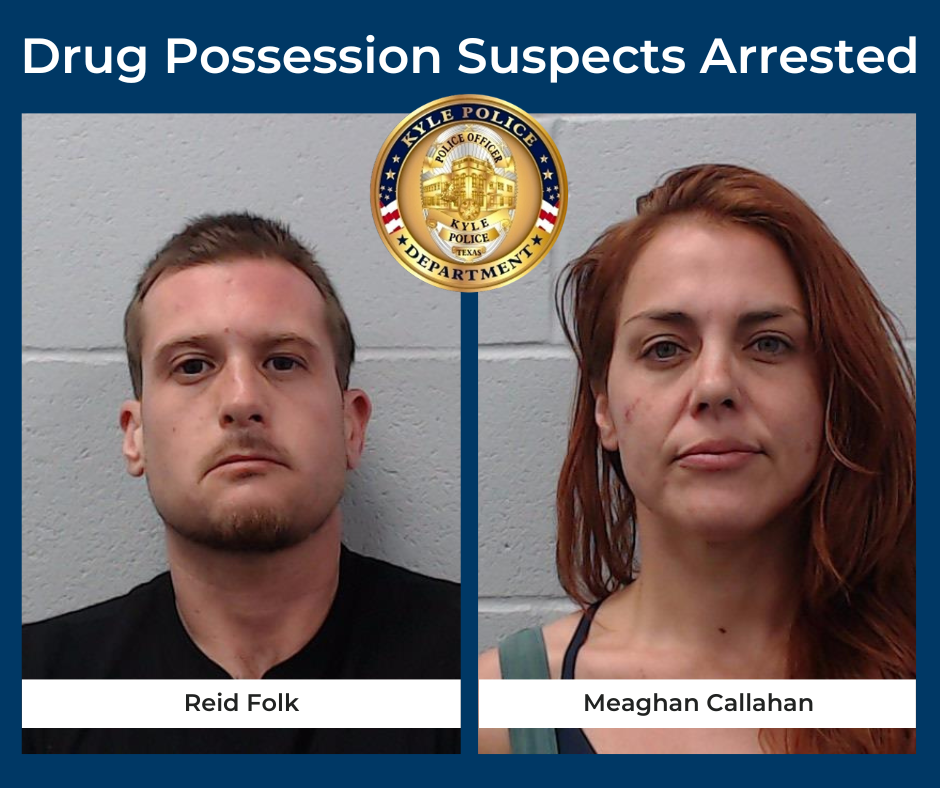 Breaking News, Kyle, News
KPD makes drug arrests
Following an overdose, officers allegedly uncover fentanyl and other narcotics in presence of children
KYLE — The Kyle Police Department announced it has arrested and charged two people with various drug charges after fentanyl and other narcotics were found in a residence in the presence of two children.
The city stated on Wednesday that KPD officers were dispatched to the 300 block of Strawn in the Plum Creek subdivision in Kyle on April 26 to assist EMS with a possible fentanyl overdose. CPR had been started by a male at the location. When officers arrived on the scene, according to the press release, an adult female was unconscious and unresponsive located in the residence. Officers then administered four rounds of NARCAN. The female regained consciousness and resumed normal breathing patterns.
While officers were attending to the female, the male on the scene began "displaying aggressive behavior towards the officers and had to be detained," the press release stated. During medical treatment and detention of the male, officers allegedly observed narcotics in plain view throughout the residence. The couple's two small children, both under the age of 5, were in the residence during this time while being cared for by a roommate.
Narcotics officers were called to the scene and obtained a search warrant for the residence. In their search, officers allegedly uncovered 14 fentanyl pills in addition to cocaine, alprazolam, MDMA, psilocybin mushrooms, THC cartridges and marijuana.
Reid Folk, 37, and Meaghan Callahan, 39, were both arrested and charged with six counts of possession of a controlled substance and one count of possession of marijuana. Child protective services was notified and both children were temporarily placed with a family member, according to the city.
"I am proud of the work of our police officers and investigators as they work diligently to remove these dangerous drugs from our community," said Kyle Police Chief Jeff Barnett. "Any amount removed from the city of Kyle and Hays County can make a difference. I am also proud of the quick actions of the officers to save the life of a community member experiencing a life-threatening emergency."
Anyone with information on illegal drug activity in Hays County is encouraged to submit a tip anonymously to the Hays County Crime Stoppers at 1-800-324-TIPS (8477), online at callcrimestoppers.com or by using the P3 Tips app on your smartphone.