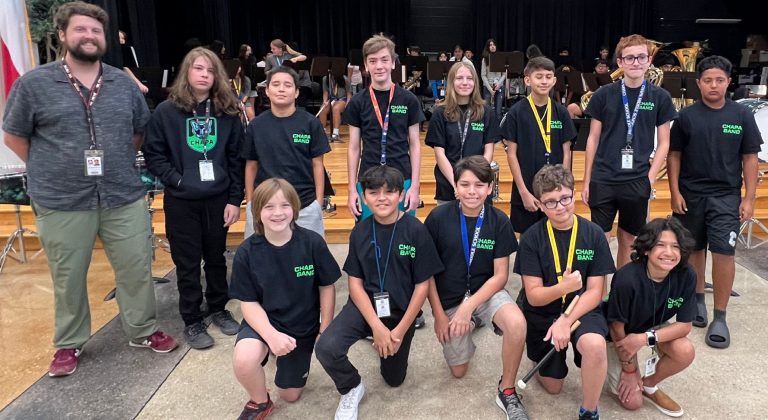 Chapa Middle School Percussion Ensemble to perform at TMEA convention
KYLE — The Chapa Middle School Percussion Ensemble has been selected as a music showcase ensemble at the annual Texas Music Educators Association (TMEA) convention in February 2024.
TMEA has been working to ensure excellence in music education for all students in Texas since 1920. More than 13,000 school music educators are TMEA members belonging in one of five divisions, including band, orchestra, vocal, elementary and college. The association is committed to giving all students, at every level, a well-balanced education that includes a comprehensive, high-quality, sequential program of music taught by teachers who are certified in music education.
Chapa Middle School, located at 3311 Dacy Lane in Kyle, was one of 50 music showcases selected to perform during the convention held Feb. 7-10 at the Henry B. Gonzalez Convention Center in San Antonio. The annual convention hosts more than 30,000 attendees, including music educators, future music educators, Texas All-State musicians and visitors.
"I had the opportunity to perform at both the TMEA convention and at a national percussion convention when I was a college student," said Orion Wysocki, percussion director at Chapa Middle School. "I wanted the chance for my students to experience this kind of wonderful opportunity. We submitted recordings from performances during the last school year and we are honored to be selected!"
"The Fine Arts Department is thrilled to have Chapa MS represent Hays CISD at such a prestigious event," said Hays CISD Assistant Director of Fine Arts Jason Adam. "This is an outstanding opportunity for the students to showcase their talents. Congratulations to all!"
The head band director at Chapa Middle School is Amanda Daniels and the campus principal is Lisa Walls.
More information about the TMEA Convention can be found at www.tmea.org/convention.