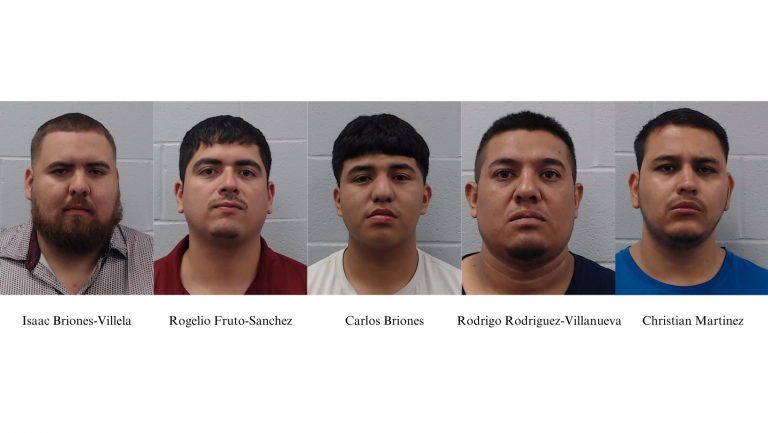 Breaking News, Kyle, News
Kyle Police Department arrests five people in human smuggling operation
KYLE — Five people were arrested in a human smuggling case in Kyle. 
On Sunday, Sept. 17, the Kyle Police Department dispatch received a call at approximately 6:30 p.m. from a person saying a relative was being held by human smugglers for ransom. Officers were able to respond to a residence on Voyager Cove to monitor while more information was gathered.
During the investigation, a vehicle leaving the residence was stopped, resulting in the detainment of four individuals inside. Further investigation found that there was at least one more suspect in the residence that police were monitoring; SWAT was activated and a fifth arrest was made.
Inside the residence, Kyle Police located five people that had been smuggled across the U.S. border, but once they had arrived in the U.S., the smugglers held them for ransom to get more money from the victims' families. Four of the victims gave interviews to the police and one of the victims was transported to a regional hospital.
The five suspects in the case were identified as 28-year-old Rodrigo Rodriguez-Villanueva of Mexico, 28-year-old Christian Martinez of Mexico, 25-year-old Isaac Briones-Villela of Buda, 17-year-old Carlos Briones of Mexico and 17-year-old Rogelio Fruto-Sanchez of Mexico. All five suspects have been charged with engaging in Organized Criminal Activity and Trafficking of Persons.  
The Texas Rangers, Hays County Sheriff's Office, San Marcos Police Department and Buda Police Department assisted with this investigation. 
This is an ongoing investigation and the Hays Free Press will update this story as more information becomes available.