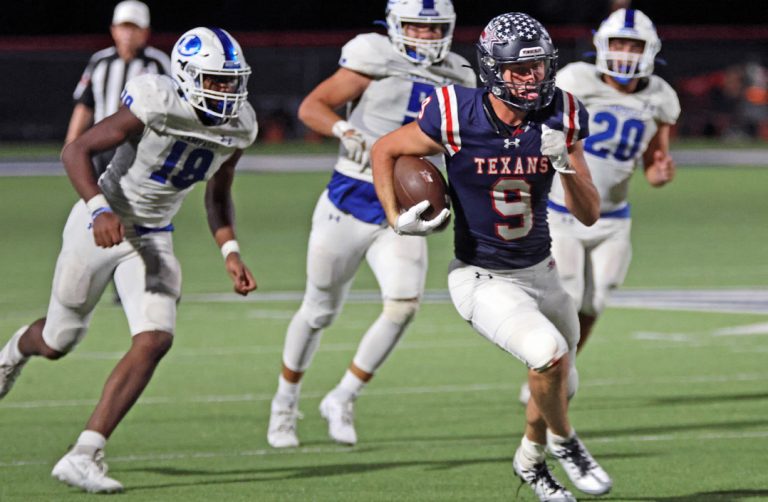 Wimberley Texans prevail over Lampasas
WIMBERLEY —Wimberley Texans quarterback Cody Stoever passed for 217 yards, reaching the 1,000 yards mark in five games, completed 21 of 28 passes, with four of those for touchdowns in helping the Texans (5-0) earn a 41-20 win over the visiting Lampasas High School Badgers (4-1) on Homecoming night on Friday, Sept. 22.
Stoever also led the team in rushing with 13 carries for 168 yards and two touchdowns. In five games, the junior quarterback has accounted for 28 of the team's 31 touchdowns (18 passing and 10 rushing).
It didn't start well for the Texans, who fumbled on their first series of downs turning the ball over, but no harm was done as the Badgers missed an attempted field goal midway through the first quarter. Nolan Waida caught a pass in the end zone to give the Texans a 7-0 lead. Lampasas didn't miss its next opportunity and scored on an 87-yard touchdown pass after intercepting a Stoever pass, only his second interception of the season.
"My team is behind me, pats me on the back and I just think how am I going to bounce back after this," Stoever, who ran for a touchdown just before halftime for a 14-7 lead, said about the interception after the game.
Wimberley would score four touchdowns in the second half while the Texans' code red defense held the Badgers to two and a missed PAT. "Shout out to our defense and the team in general," Stover said after the game. "To face the adversity like we did in the first half and then come out clicking in the second half like our offense did, it's a cool win."
Stoever scored on a 27-yard run and Noah Birdsong caught a touchdown pass in the end zone before the Badgers scored on a long pass, all in the third quarter, to cut the Texans lead 28-14. Ty Thames, who had a fumble recovery, went to his knees to make a touchdown catch early in the fourth quarter while Birdsong hauled in his second touchdown catch of the game for a 41-14 lead before Lampasas' final score on a pass play.
"I like this group and the trajectory we're on, we gave up a couple of long plays, but won't look back," head coach Doug Warren said after the win. "We just have to focus on improving each week and go from there."
The Texans have a bye week next week. The Texans open district play at 7:30 p.m. on Oct. 6 at Jarrell and then they will host Manor New Tech at 7:30 p.m. on Friday, Oct. 13 before traveling to Navarro on Oct. 20.