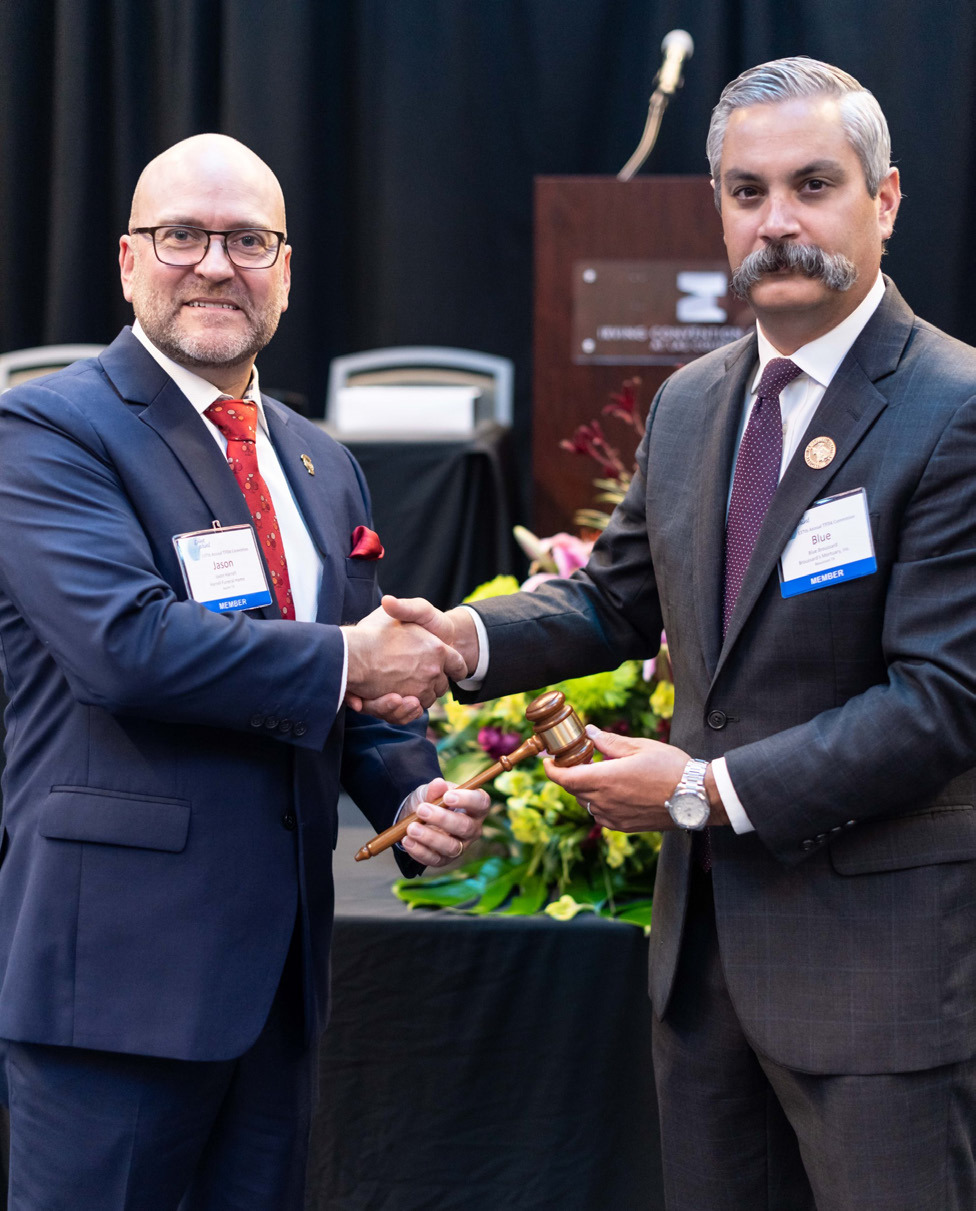 Jason Harrell is new president of Texas Funeral Directors Association
AUSTIN — At the 137th annual convention in Irving, the Texas Funeral Directors Association (TFDA) elected Jason Harrell as the president of the association. With an extensive background in the funeral service profession and a commitment to excellence, according to a new release, Harrell brings a wealth of experience and leadership to this esteemed role.
Harrell, who is partner and funeral director at Harrell Funeral Home in Austin, brings 35 years of experience in funeral service to his new role as TFDA president and will work to promote the highest standards of funeral service, advocating for funeral directors across Texas.
"Jason's vision, energy and passion for the profession make him an ideal fit for leading our association into the future," said TFDA Executive Director Harvey Hilderbran in a news release.
The new president has served in various leadership positions within the TFDA, including president and vice president of the South-Central Chapter, and president-elect and secretary-treasurer of TFDA. In 2022-23 he served on the following committees: Budget, Building & Long-Range Planning, State Board Exam, Bylaws & Resolution, Convention Site Selection, Legislative, Media Relations, Membership and PAC. In previous years, he has also served on the Disaster Relief committee. He is an advocate for the Emerging Leaders within TFDA and was awarded Funeral Director of the Year by TFDA's South-Central Chapter in 2018. He also currently serves on the board of trustees for St. David's South Austin Medical Center.
Harrell has enjoyed giving back to his community through Boy Scouts. He is a third generation Eagle Scout and his sons, Caleb and Zac, recently extended that honor into the Harrell family's fourth generation.
Harrell is the 133rd TFDA president and the fifth Austin resident elected to lead the organization. His late father, Arvin Harrell, was president in 1995 and Harrell Funeral Homes' General Manager Darryl Thompson served as president in 2013.
"I am honored to serve as the president of the Texas Funeral Directors Association," said Harrell. "It is an honor to follow in my father's footsteps as a second-generation funeral director, and like him, I am learning of the great rewards in giving back to my community, my profession and serving directors across the state. I am committed to upholding the values and standards of our profession while advancing TFDA's mission. Together, we will continue to elevate funeral service in Texas and support funeral directors as they continue to selflessly serve their families and communities."
The newly-elected president will work closely with TFDA's Board of Directors, committees and members to ensure the association continues to provide needed resources, education and support for TFDA members. Further, he intends to advocate for all Texas funeral directors, while upholding the association's mission of serving families with compassion, dignity and professionalism.
"One of my top priorities in 2023-2024 is completing and implementing a new Texas State Board Exam to help provisional funeral directors become licensed in the State of Texas," said Harrell. "More than 30% of funeral directors taking the National Exam do not pass it. TFDA's new state exam, developed in partnership with Texas mortuary colleges, will serve to launch more funeral directors into their new profession."
"In addition, I am committed to offering TFDA members new educational opportunities and benefits as we work to increase participation and make specialized certifications more accessible," he continued. "We also want to increase engagement across all generations of our membership. The mentoring and camaraderie among the various ages within our profession are vital to move us all forward in our individual practices, meeting ever-changing and challenging consumer preferences."
Jason and his wife, Christy Harrell, have been married for 26 years.
Patsy Harrell, Jason's mother and wife of the late Arvin Harrell, remains an integral part of the leadership team, working hand-in-hand with Jason, building Harrell's into the largest family-owned funeral home in Central Texas, with recent expansion into Kingsland, Llano and Marble Falls. Harrell Funeral Homes operates seven locations, including two Hays County locations — one in Kyle and one in Dripping Springs.
Jason is an avid hunter in his free time and enjoys golfing, fishing and traveling.
By honoring each generation's unique perspectives, experiences and skills, TFDA aims to assist members in driving innovation, providing the quality of services, and creating meaningful experiences that resonate among all Texas communities and their changing expectations.
"We look forward to working with Jason," said Hilderbran, "and believe his contributions will benefit the ongoing growth of TFDA as well the individual successes of our members, vendors and mortuary students across the state."