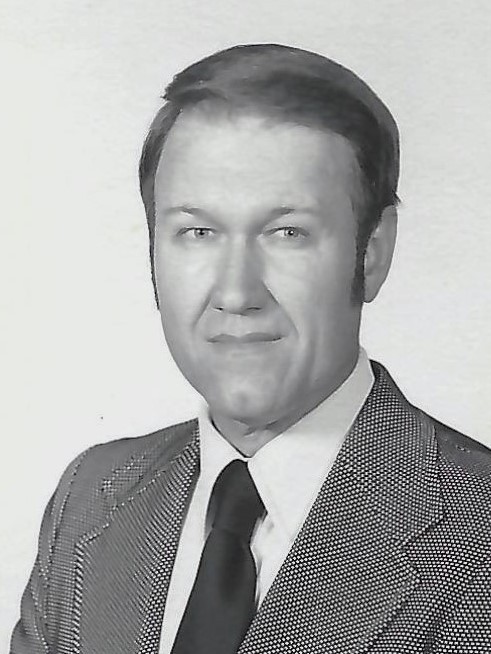 James Edward Stavlo (1935-2023)
James (Jim) Edward Stavlo passed away September 30, 2023, at the age of 88 at his home in Buda, Texas.  Jim was born July 12, 1935, in Texhoma, Texas to Oscar and Marie Stavlo.  Jim is predeceased by his parents and his brothers Donald and David Stavlo.  He is survived by his loving wife of 61 years, Linda Harrison Stavlo, brother Robert Stavlo and sister Ruth Stavlo Jones, his two children Valerie Corry and Steven Stavlo, his six grandchildren and four great-grandchildren.
Jim grew up on the farmland of the panhandle helping his father and uncles work their farms at a young age. He graduated High School from Spearman, Texas in 1953.  Jim attended Clifton Texas Junior College then he and his cousin Sally Stavlo went to Texas Lutheran University in Seguin, Texas.  Jim was a member of the Texas Lutheran Choir and toured with the choir.  That experience led to a lifetime of singing in his church choirs.  Jim transferred and graduated from Texas Tech University with a BS in Chemical Engineering in 1960.  He joined the U.S. Army Reserves upon graduation and served for six years ending as a Mess Sargent.  At that time, he met and then married Linda in 1962.
Jim's work career included working as a Metallurgical Engineer for American Zinc Co. in Dumas, Texas, and then moved to McPherson, Kansas to work as an Operations Research Engineer for National Cooperative Refinery Association. While in McPherson he got his pilot's license. As a family we camped, boated and he fished and hunted.  In the summer of 1975, he took the family back to Texas to work at Quintana Petrochemical Company in Corpus Christi, Texas as an Operations Engineer.  In 1980, Jim received an MBA from Corpus Christi State University (now Corpus Christi A&M).
In 1982, Jim and Linda began an adventure that would allow them to travel to many new places.  In 1982, Jim accepted a position as a Facilities Planning Engineer in Saudi Arabia for the Arabian American Oil Company.  Their travels took them all over Europe, Thailand, China, the Middle East and Egypt. Jim and Linda came back to the United States, and he began work for Burns and Roe Engineering in 1987 as an Operations Engineer.  His position oversaw the disposal of chemical warfare weapons that had been in storage since WWII.  Jim and Linda moved to Aiken, South Carolina in 1990 for Jim to work at Westinghouse, continuing with his expertise in chemical waste disposal and later working as a nuclear accident investigator reporting to the Department of Energy.
Jim was a member of the American Institute of Chemical Engineers, National Society of Professional Engineers and a Registered Professional Engineer for the State of Texas until his retirement in 2000. After retirement in 2000, Jim joined his wife in Buda, Texas where they built the house of their dreams in 1998 out in the country next to their daughter and son-in-law.  Jim was a member of Buda United Methodist Church serving on the Finance Committee.  Jim became an active member of the Onion Creek Senior Center serving twelve years on the Board of Directors and ten years on the Building Committee for the new facility.
Funeral Services will be held October 14, 2023, at 1pm in the Worship Center at Buda United Methodist Church, 302 Elm St., Buda, Texas 78610.  Reception at 2pm at the Onion Creek Senior Center, 420 Bartons Crossing, Buda, Texas 78610.  Food will be provided.  In leu of flowers consider a donation to either the Buda United Methodist Church, PO Box 1196, Buda, TX 78610 or Onion Creek Senior Center, PO Box 65, Buda, TX 78610.