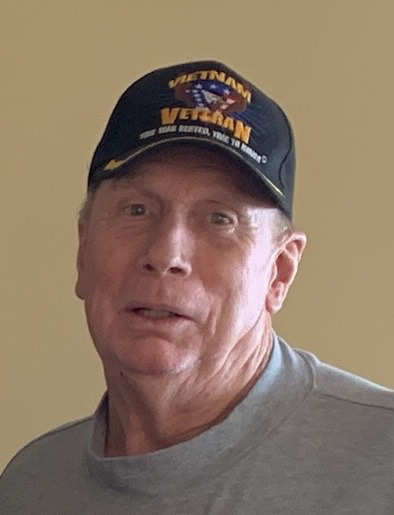 Danny Lee Grimm (1950-2023)
Danny Lee Grimm, 73, of Buda, Texas passed away on October 14, 2023, in Buda Texas.  Danny was born in Giddings, TX to Adolph C. and Betty J. Grimm on February 4, 1950.
Danny went to high school at Elgin High School and graduated in 1968. He went on to serve in the Army in Vietnam on active duty beginning September 2, 1968. He served with the Btry A 1st Bn 16th Arty 2nd Armored Div Fort Hood, Texas FIFTH US ARMY. He was honorably discharged on September 1, 1971. He worked in construction for many years and retired from Austin ISD after 24 years of service. He enjoyed many years of membership and service in the Texas Association of Vietnam Veterans. Danny enjoyed camping and traveling with his family. He always enjoyed attending the activities of his children and grandchildren.
Danny is survived by his wife of 52 years, Cindy Lou Farr, of Buda. Sons Mark Grimm and wife Amanda of Dripping Springs, TX; Nathan Grimm and wife Samantha of Apopka, Fl along with grandchildren Chase and Evie Grimm (Mark) and Mackenzie and Makayla Grimm (Nathan). Siblings Darrell Grimm and wife Carol of Liberty Hill; sister Margaret Tucker and husband Will of Kerrville; sister Jane Marshall and husband Doug of Salado; brother Brian Grimm and wife Valisa of Fredericksburg; and many nieces and nephews.
Danny was preceded in death by his parents Adolph C. and Betty J. Grimm and brother Allan Carl Grimm of Stephenville.
Memorial service will be held at Buda United Methodist Church, 302 Elm St, Buda, TX 78610 on November 6, 2023, at 10:00 AM. Harrell Funeral Home of Kyle, TX will be handling the funeral arrangements.
Memorial donations may be made to Buda United Methodist Church, Buda, TX or Tenth Street United Methodist Church, 410 W. 10 St. Taylor, TX 76574. The family wishes to extend their gratitude to Buda Oaks Assisted Living and Memory Care and Magnolia Hospice.