Buda looks to meet needs of senior citizens
[dropcap]B[/dropcap]uda city leaders earlier this month tabbed the creation of a task force to discover ways to better represent and serve the city's aging population.
The decision came after Buda Human Resources Manager Kristin Williams presented results of the city's aging survey to the Buda City Council March 21. The survey aimed to find ways to help the city's population, 65-years-old and over.
Williams said 102 Buda residents responded to the survey, with 73.5 percent of those being Buda seniors.
Williams said respondents' top two complaints consisted of seniors not being able to access the information they need, such as where to go to receive resources, and not enough senior transportation.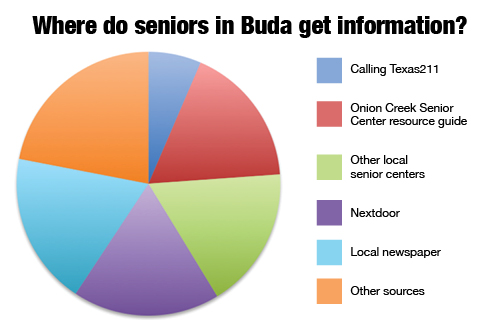 "They're not finding the information," Williams said, regarding the respondents' desire to have information provided at one central location, possibly downtown.
Williams said the survey asked respondents to identify where they get most of their information regarding senior resources.
Roughly 31 percent received their information from the newspaper, while approximately 30 percent receive information from the Nextdoor smartphone app.
In addition to better transportation options and centralized information services for seniors, Williams said respondents were interested in not only socializing with residents of their own age group, but young people as well.
"Those are things I think we can tackle with a task force," Williams said.
Council members agreed the next step toward helping Buda's current and future aging adult population would be to create a task force or commission that could meet quarterly.
"We need to move forward on this," council member Eileen Altmiller said.
Altmiller referenced a recent Capital Area Coalition of Governments (CAPCOG) newsletter announcing Buda as one of the cities that's thinking ahead regarding improving services for aging adults.
"It has been needed for a long time," Buda Mayor Todd Ruge said of the task force.
Williams suggested those helping with the task force should be volunteers and not appointed by city leaders.
"They (aging adults) want an opportunity to volunteer," Williams said as she mentioned the respondents' feedback about wanting to be more involved in the community.
According to a Buda press release, there are nine volunteer positions open on the task force, with council assigning members at the April 4 city council meeting.
David Marino, Buda public information officer, said the deadline for residents interested in volunteering to serve on the task force for aging adults is April 2.
Get involved