Dead end for water district choice bill
The failure of House Bill 4122 in the 85th Texas Legislative session was deemed "a big win" by a local state representative as he believes it leaves groundwater under the protection of conservation districts.
State Rep. Jason Isaac (R-Dripping Springs) said the original bill, filed by State Rep. Kyle Kacal (R-College Station), would allow large property owners with 1,000+ acres and whose land straddles two or more water conservation districts to petition to move their land into only one district.
Isaac said the reason the bill could be dangerous is that it would have given the landowner the ability to go from a water conservation district with higher regulations to a water district with limited oversight.
"The law would have mandated that groundwater conservation districts would have to comply with a landowner's wishes to change districts."
State Rep. Jason Isaac (R-Dripping Springs)
Isaac said a state statute still remains requiring a large landowner to petition each water conservation district in order to be located within only one district. However, the Texas Commission on Environmental Quality (TCEQ) must also allow the change before it can move forward.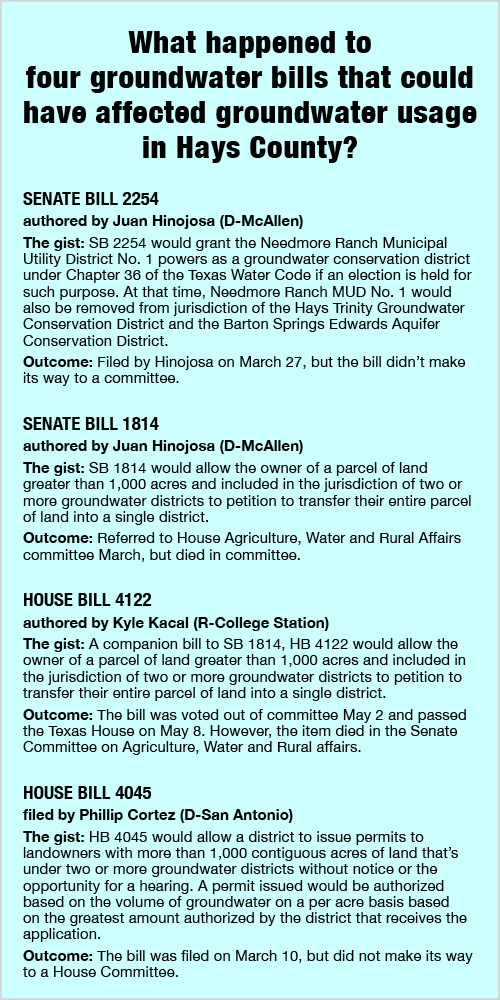 John Dupnik, Barton Springs Edwards Aquifer Conservation District general manager, said he believes the inspiration behind the bill was the desire of Needmore Water LLC to transfer from a water conservation district with regulated use to a district with unregulated use.
Needmore Water LLC is a water company that is trying to obtain water for the 5,000-acre Needmore Ranch, located outside of Wimberley. The ranch, owned by south Texas beer distributor Greg LaMantia, straddles the BSEACD and the Hays Trinity Groundwater Conservation District.
In 2015, state legislators passed HB 3405, which allowed the BSEACD to regulate groundwater in what were previously unregulated areas of the Trinity Aquifer.
"All water conservation districts are not created equal," Dupnik said. "Some are designed to have less authority."
Isaac said the bill failing was "a win for District 45 and Hays County" because it ensures the protection and regulation of groundwater. He said it further protects legislation passed at the 2015 session protecting property rights. That includes 2015 HB 3405, or the "Save our Wells" bill.
"I'm glad that any and every attempt to undo the legislation that we worked so hard to pass in 2015 to protect our private property rights and protect our groundwater failed in the 85th legislative session," Isaac said.
Dupnik added that the bill's failure keeps an even playing field regarding regulations of groundwater for both the large landowners and the small.
"It puts them (large landowners) in the same category as the people that work here and live here and need water here," Dupnik said.
Dupnik said since the bill failed, it means going back to where the BSEACD was before the bill was filed and contesting the Needmore Water LLC case along with TESPA (Trinity Edwards Springs Protection Association).
Isaac said residents should feel relief that HB 4122 failed and "can feel confident that their water isn't going to be stolen right from underneath their feet."