$250M school bond approved: Voters greenlight new high school, two new elementaries
A new high school, two new elementary campuses and improvements across Hays CISD were given the green light by voters Saturday as a pair of bond propositions totaling $250 million were approved by a wide margin.
Support was high for both Proposition 1 and 2, which held sizable approval percentages after the release of early voting numbers, and continued to hold that trend as Election Day results came in.
Over 1,200 of the 2,102 total votes cast in the Proposition 1 election approved the measure, which called for $189 million to be spread across three new campuses in the district. Included was a $122 million third high school campus that will be located along FM 967 near Carpenter Hill Elementary. District officials estimate the campus could open by the 2019 school year.
Proposition 2, a measure that called for roughly $60 million in improvements district-wide, received 64 percent of the vote. According to Hays County election results, only 4.48 percent of the 47,305 registered voters in Hays CISD cast ballots.
Voters approved a proposition that earmarked improvements to Career and Technology Education facilities in the district, as well as a $3.6 million baseball/softball complex at Hays High.
Tim Savoy, Hays CISD public information officer, said there were many people who were passionate on both sides of the issue regarding the bond, and the district appreciated all viewpoints.
Savoy said Saturday's result was a "victory for the people supporting the bond," but added the conversation continues because "our growth is going to continue."
"These are decisions the community has to make and we appreciate everyone who made that decision," Savoy said. "Regardless of the outcome, we appreciate everyone bringing their points to the table."
As both propositions move forward, Hays CISD voters also gave the nod to a political newcomer to make her way on the dais.
Vanessa V. Petrea, a former PTA member who works as a paralegal, claimed the board of trustees At-Large seat by a 202 vote margin Saturday.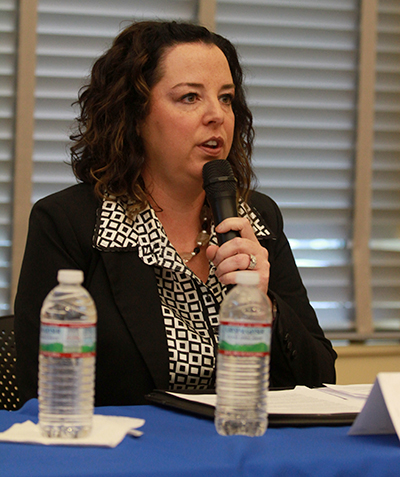 Petrea gathered the lead after early voting numbers were released and emerged with 41 percent of the vote after Election Day ballots were counted. Petrea defeated candidate Debbie Munoz who took 31 percent of the total vote. Candidate Doyla A. Burrell finished third with 27 percent of the vote.
Petrea said she was "extremely honored and grateful" for the opportunity to serve on the dais and she was eager to dig into the process. She was with friends at Buck's Backyard near Buda when she got the news of her victory.
She added she was impressed with all of the candidates and "everyone ran a great race."
"I've never done this before and I wasn't confident when the early voting numbers came in that I would win the election," Petrea said. "I was cautiously optimistic, but never expected to win."
Petrea said she was eager to begin Texas Association of School Board (TASB) training, but also to start to focus on one of her platforms, which is pushing for social and emotional learning programs.
"I'll be eager to vote on important issues right away," Petrea said. "But I want to get all of the facts and learn as much as I can before I jump into the issues."
Hays CISD voters also supported the reelection bid of incumbent District 1 council member Teresa Tobias, who carried 59 percent of the vote to win the seat.
Tobias defeated candidate Charles McNiel, Jr., who gathered 84 of the 203 votes, and Michelle R. Carey, who took 37 votes.
May 6 Election Results
Proposition 1
For – 59.56% – 1,252 early/607 election day
Against – 35.27% – 850 early/366 election day
Proposition 2
For – 64.73% – 1,362 early/653 election day
Against – 35.27% – 366 early/742 election day
Hays CISD At-Large Trustee
Vanessa V. Petrea – 41.94% – 775 early/357 election day
Debbie Munoz – 31.01% – 573 early/288 election day
Doyla A. Burrell – 27.06% – 500 early/234 election day
Hays CISD District 1 Trustee
Teresa Tobias – 59.61%– 121 early/52 election day
Charles McNiel, Jr. – 27.59% – 56 early/28 election day
Michelle R. Carey – 12.81% – 26 early/11 election day