Fixing the GPA game: Trustees seek to weigh dual credit on higher scale
A 30-plus percent rise in the number of Hays CISD students enrolled in dual credit courses occurred between the 2015-2016 school years, officials said.
However, several trustees believe adding more grade point weight to dual credit courses could not only boost students' grade point averages (GPA), but could spur more interest in the program.
Rick Odum, Hays CISD director of advanced academics, said the district's dual credit program is a path that allows students a way to earn college credits while attending high school. Students qualify for dual credit based on SAT and ACT scores.
Dual credit courses are offered to students at a reduced cost and students are only required to foot the bill for books and other materials. Students are able to take dual credit courses on a one- or two-year commitment. Yarda Leflet, Hays CISD director of learning and teaching, said the district is flexible when it comes to the two-year plan, but tries to work with families as much as possible.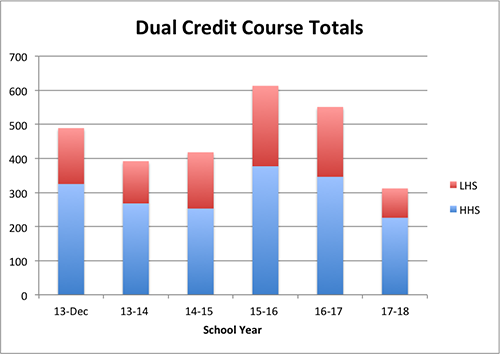 "It's a huge financial and academic advantage for those kids to get," Leflet said.
Hays CISD partners with Austin Community College and the University of Texas at Austin to offer students dual credit courses during the school year.
Both Hays and Lehman high schools have been offering dual credit program for the past two years that allows students to graduate with an associate's degree, Odum said.
Odum said the district experienced a 32.7 percent enrollment increase in dual credit between 2015 and 2016. Odum said Hays CISD is on pace to surpass enrollment in dual credit programs in the 2016 school year.
However, the district also experienced a decrease in the number of courses taken by Hays CISD students in the dual credit program.
Odum believed the influx of other programs, such as the University of Texas On-Ramps program, gives students more options than a normal dual credit course.
"My suspicion is with the more programs offered, it spreads around where the students would take," Odum said.
Merideth Keller, Hays CISD board president, said the district would focus on improving dual credit enrollment at Lehman High, which averaged 110 students over the last five years.
"I wanted to point out the difference between the numbers at Hays High School versus the numbers at Lehman … That is on our radar. We have to address that." Merideth Keller, Hays CISD board president
"I wanted to point out the difference between the numbers at Hays High School versus the numbers at Lehman," Keller said. "That is on our radar. We have to address that."
Trustee Holly Raymond advocated for weighing dual credit courses on the same scale as Advanced Placement (AP).
Currently, dual credit courses are weighed the same as Pre-AP, which feature a 5.0 GPA scale. AP courses are weighed on a 6.0 scale.
"When we took steps in 2012 or 2013 …we made the right steps by giving a 5.0 weight, but we're not there yet, and we're not done," Raymond said. "I think we're not giving our students the best option."
Trustee Teresa Tobias said parents often talk about having to play the "GPA game" and shepherd their students to take AP classes and not dual credit.
"We should have those courses the same, weighted the same," Tobias said. "We're not losing students. Some of them are taking AP courses. But more of them would go [to dual credit] if they were weighted the same."
Odum said the district is currently exploring ways to grow the dual credit program. Expansion of the University of Texas dual credit programs to include U.S. History and College Algebra is one option. Other options include offering more courses at the ACC Hays campus, while also integrating dual credit courses into Career and Technology Education programs.
Allowing Hays CISD high school educators to teach dual credit courses at their home campuses would also allow "flexibility in terms of scheduling, class sizes and communication regarding student progress."
When it comes to professor availability, Leflet said the district is working with Elaine Howard, Hays CISD human resources director, on recruiting teachers who have a master's degree in their area, as well as working with ACC on approving Hays CISD teachers in its departments.