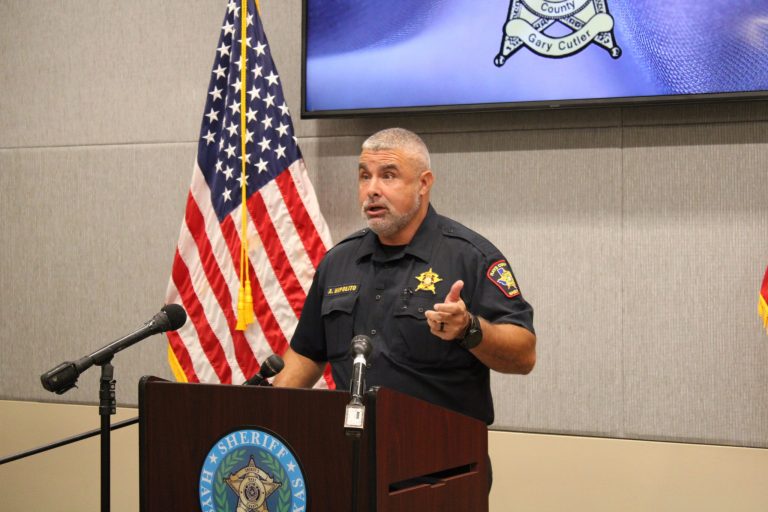 Breaking News, Hays County, Kyle, Main, News
HCSO provides update on sex offender arrest
HAYS COUNTY — The Hays County Sheriff's Office held a press conference at the San Marcos Public Safety Center on July 20 to provide updates on the charges against registered sex offender, Diego Alejandro Cortez.
Cortez was arrested on July 2 after HCSO responded to a 911 call at approximately 3:30 a.m. about a missing 10-year-old girl in Kyle. After arriving at the scene, officers were able to determine that the child was in San Antonio. The mother continuously called her daughter and when she eventually picked up, she told her mother that she was on her way back. A perimeter was set up in the neighborhood because officers had no description of the individual the girl was with or the vehicle being driven.
"Our patrol deputies left the residence and basically set up a perimeter around the neighborhood. We had no description of what car she was in; we didn't know who she was coming home with, but the chances of her being with someone that she wasn't supposed to be with were pretty high," explained deputy Anthony Hipolito.
While waiting for the child to return home, officers noticed a white Volkswagen entering the neighborhood. They had no vehicle description but at 4:30 a.m., there is typically no traffic. Officers decided to do a traffic stop once the child was home to determine if this was the car that dropped off the minor.
"At that time, officers identified Diego Alejandro Cortez … They quickly learned that he was a registered sex offender out of San Antonio, Texas and after a brief conversation, they detained Mr. Cortez because he essentially told officers that he was with the 10-year-old female," said Hipolito.
Detectives learned that Cortez used Snapchat to lure his victims by pretending to be a young teen to form a relationship with the girls. He then used the map feature on the app to find their location and meet up with them.
"He was portraying himself as a young teen, so he would use filters and alter his image … He would essentially start grooming them at that time — developing a relationship, having back and forth texts or private messages until he was able to earn their trust and then he would go and meet them at that time," said Criminal Investigation Department Sergeant Mark Opiela.
Cortez was initially charged with harboring a runaway, a Class A misdemeanor, and trafficking a child to engage in sexual conduct, a first-degree felony. After warrants were obtained, HCSO found numerous photos and videos of Cortez having sexual intercourse with various young females, some of which were of the 10-year-old girl he was with the night of July 2.
Through a forensic interview with the victim, Cortez's confession and the images, which were timestamped and geotagged, HCSO were able to confirm the facts of the encounter.
While further investigating evidence, officers were able to identify another 13-year-old victim that lived in Cibolo, Texas. HCSO contacted the mother and conducted an interview with the girl whose story matched with the timestamps and geotags of the photos. The minor stated that she had known Cortez since March 2023 and had sexual intercourse multiple times, with the most recent being around June 30, according to HCSO. Cortez admitted to these accusations as well.
"I think it's important to note in this case, this isn't a case of mistaken identity. It wasn't as if Mr. Cortez didn't understand who he was meeting up with. It wasn't a case where all  of a sudden, he realized this was a child and didn't meet them," stressed Opiela. "This is a case where he knew exactly who he was meeting up with and he, in fact, searched for those people for the purpose of eventually meeting up. This was some sort of a thrill that was important enough to him to follow through."
Cortez is now being charged with 10 counts of possession of child pornography, third-degree felonies, and sex abuse of child continuous, victim under 14, a first-degree felony. The charge is continuous because it happened over more than 30 days with both victims.
Hipolito commends the victims who came forward and urges any others to as well, as HCSO believes that there could be victims across the state due to Cortez previously living in both Abilene and Kyle.
"It's very brave of these young females to come forward and tell their story. It's probably not something they wanted to do, but again, very, very brave," he said. "We know there's more victims. I know it's very hard for these young females to come forward. We encourage [them]. We're here to help. We want to get you justice. What Mr. Cortez is doing is sick. It's evil and he needs to spend the rest of his life in prison … Please reach out to your parents, please reach out to counselors, your teachers — where you need  to to get help."
Opiela closed the conference urging parents to monitor their children's activity: "We, as parents, have an obligation to monitor [our kids' phones]. We have a responsibility to ensure the safety of our children," he said. "Unfortunately, evil is out there and we're seeing evil in this case. Evil will find our kids if we don't do our job."