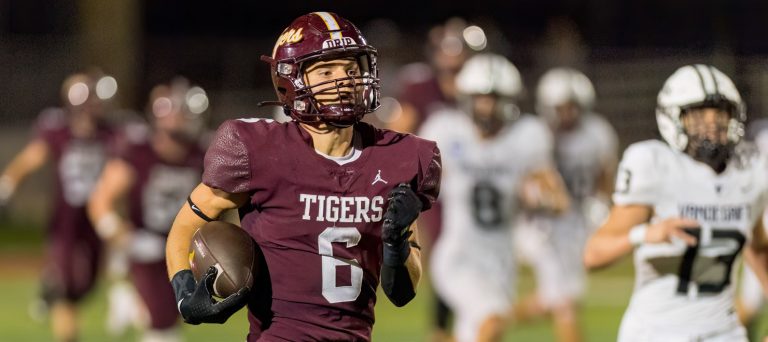 Dripping Springs Tigers, Sports
Tigers drop season opener at home
DRIPPING SPRINGS — The Dripping Springs Tigers fell short against the Vandegrift High School Vipers, 27-7, in a non-district game on Friday, Aug. 25 in front of a near capacity home crowd.
The Vipers scored a touchdown in the first quarter and three touchdowns in the second quarter, with one missed field goal.
The starting Tiger senior quarterback Jack Williams (No. 10) was injured in the first quarter and did not return. He finished the game with one completion and one fumble.
Junior quarterback Maddox Maher (No. 5) entered the game, but the Vipers showed strong defense. The Vipers held Maher to six completions with 17 attempts for 43 yards.
After halftime, the Tigers regrouped and came out strong. The Tigers scored early in the third quarter on an 80-yard run by senior Kyle Koch (No. 6), which was the team's only score of the game.
The Tiger defense came out strong after halftime and they did not allow the Vipers to score in the second half of the contest.
Senior Theo Howard (No. 14) had six tackles and three assists. Seniors Elijah Gonzales (No. 93) and Gabe Quintana (No. 3) each had three tackles with some assists.
After the game, coach Gabe Zimmerman said he knew it was going to be a great game with a strong football team. He said the Tigers made a few mistakes and the Vipers capitalized on their mistakes.
Coach Zimmerman is looking forward to watching the game film. The Tigers will regroup and get back to work to clean up some areas ahead of their next game at 7 p.m. on Sept. 1, when they will take on the Thunderbirds of San Antonio Wagner High School.