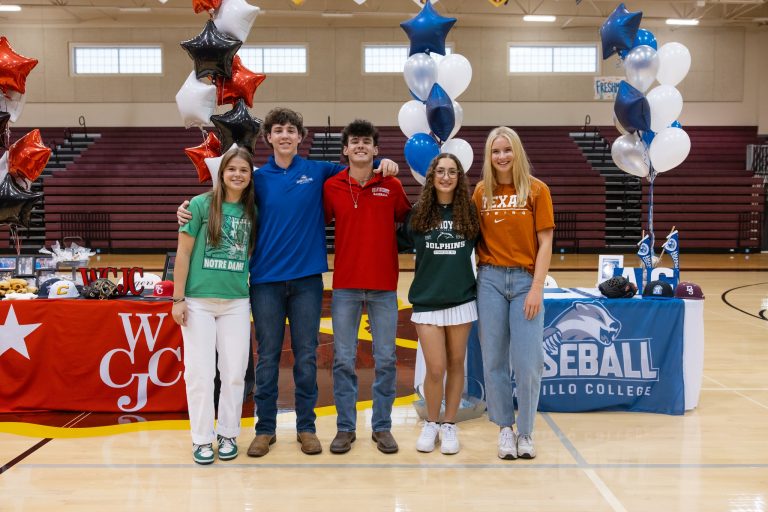 Dripping Springs Tigers, News, Sports
Dripping Springs High School student athletes sign National Letters of Intent
DRIPPING SPRINGS  — Five Dripping Springs High School student athletes signed National Letters of Intent to continue their athletic and academic careers at the collegiate level on Wednesday, Nov. 8.
Below is information on each of the five signees.
Jaxon Conover, Baseball, Wharton County Junior College
Jaxon Conover is a three-year letterwinner and two-time all-district selection for the Dripping Springs Tiger baseball program. He was named honorable mention all-district at shortstop in 2023 after earning honorable mention accolades from the mound in 2022.
During his career, he has recorded a 1.96 Earned Run Average (ERA) and 52 strikeouts in 50 innings. As a sophomore, he helped the Tigers to the 5A state playoffs after recording a 0.95 ERA and 26 strikeouts in 22.2 innings. In 2023, Conover was a perfect 40-for-40 in defensive chances during district play, committing just eight errors in 117 total chances.
He is a two-time academic all-district honoree and was named the team's defensive player of the year in 2023. He plays select ball for the Canes and is the son of Dolores and Gary Conover.
Ellie Hodsden, Soccer, University of Notre Dame (Indiana)
Ellie Hodsden is a three-year letterwinner for the Tiger soccer program and DSHS record holder for goals (50) and points (109) in a single season. Hodsden will close out her decorated career in 2024 and forgo her senior season to join the Notre Dame women's soccer program.
In March of 2023, she was one of 20 players named to the U-16 Women's Youth National Team. Through two seasons at DSHS, Hodsden has recorded 213 points and 98 goals and is on pace to break both career records. As a freshman, she set school records with 48 goals and 109 points to lead the Tigers to the regional finals. In 2023, she bettered her school record with 50 goals while guiding Dripping Springs to the regional quarterfinals in its first 6A season. She is a member of the Lonestar SC organization and is the daughter of Julianne and Scott Hodsden.
Ryland Mahoney, Baseball, Amarillo College
Ryland Mahoney is a two-year letterwinner and two-time all-district honorable mention pitcher for the Tigers. In two years, he has compiled a 3.26 ERA and 36 strikeouts in 34 innings of work while committing just one error. As a sophomore, he posted a 4-0 record and 1.85 ERA in a team-high 21 appearances to help Dripping Springs to the 5A state playoffs. Mahoney earned academic all-district honors in 2022 and 2023. He plays select ball for GPS and is the son of Kathryn and David Mahoney.
Kaitlyn Milner, Rowing, University of Texas at Austin
Kaitlyn Milner competes for the Austin Rowing Club where she rows port on the First Varsity 8+ boat. In 2023, she competed with the Second Varsity 8+ boat, which finished second at the Texas State Regatta and third at the USRowing Youth Central Regional Championship to earn a berth to the USRowing Youth Nationals Regatta. She is also a member of the DSHS National Honor Society, BRIDGE and military club and is the daughter of Lauren and Jessy Milner.
Sydney Stalbaum, Swimming, Le Moyne College (New York)
Sydney Stalbaum is a four-year letterwinner for the DSHS swim team. As a sophomore, she advanced to the UIL 5A State Meet in the 500-yard freestyle after placing second in the event at district and regionals. In addition to swimming, she is a member of the National Honor Society, Society of Women Engineers, HOSA and the Young Women's Club. She plans to major in Biology with a pre-dental track and go to dental school in Texas after college. She is the daughter of Kassandra and Darren Stalbaum.